StimuliTM eliminates the "Memory Effect" through computer generated random characters. StimuliTM supports more tests and can provide patient education and entertainment. Doctors find the speed and feature set of StimuliTM systems a real aid to their busy practice. Technicians appreciate the ease of use. Patients are pleased by the modern appearance and believe StimuliTM vision tests are more accurate. There are fewer distractions for the patient because all tests and media are consolidated onto a single screen. Optotypes include: Snellen, Peds, E´s, Numerals and more. StimuliTM can be calibrated for short, long or mirrored rooms.

Users comments:
"It's fast and easy and the kids just love the cartoons."

"At first I was skeptical, but after one day I was Sold!"

"StimuliTM is a product that both staff and patients love."

"Has great application for Low Vision and Peds."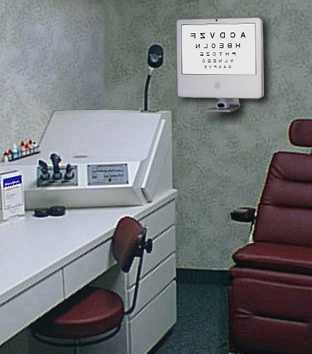 StimuliTM installed in a folded room.